mamula island
Rising out of the Adriatic Sea off the northwestern coast of Montenegro, Mamula Island cuts a striking figure against the rich blue waters of the Bay of Kotor. In 1853, a fortress was built on the island to protect the bay – now a UNESCO World Heritage Site. Today, this incredible location is a place to come visit and discover for yourself. Used once as a wartime jail, one of the goals of the project is to make the Island accessible to visitors – locally and internationally – to aid commemoration and give this remarkable place a more positive future. There is a dedicated space on the Island for a Historical Memorial Gallery to do just that. The extraordinary structure of the original fort was the perfect springboard for us to create a new story for Mamula Island.
In designing the interiors for the new hotel on the island, our goal was the creation of a space where the approach is a completely holistic one: The interior architectural components, the bespoke furniture and the tactile elements all come together to form an environment where every guest can feel connected to the place.
Throughout the design development process we looked to a variety of cultural references to create a modern reinterpretation of a retreat. Inspiration ranged from the heritage of local artisanal trades (such as pottery and traditional furniture joinery techniques) to minimalist mid-century style and abstract fine art. These influences combined to create a distinct design language: sophistication and refinement interlaced with both the vernacular and a respect for the unique character of the island. Likewise, the chosen materials draw from tradition whilst staying universally modern and durable: think natural stone, aged brass, solid oak and breathable, organic textiles.
"Harnessing the contemplative atmosphere resonating from the island, our intent was to create a place of wonder"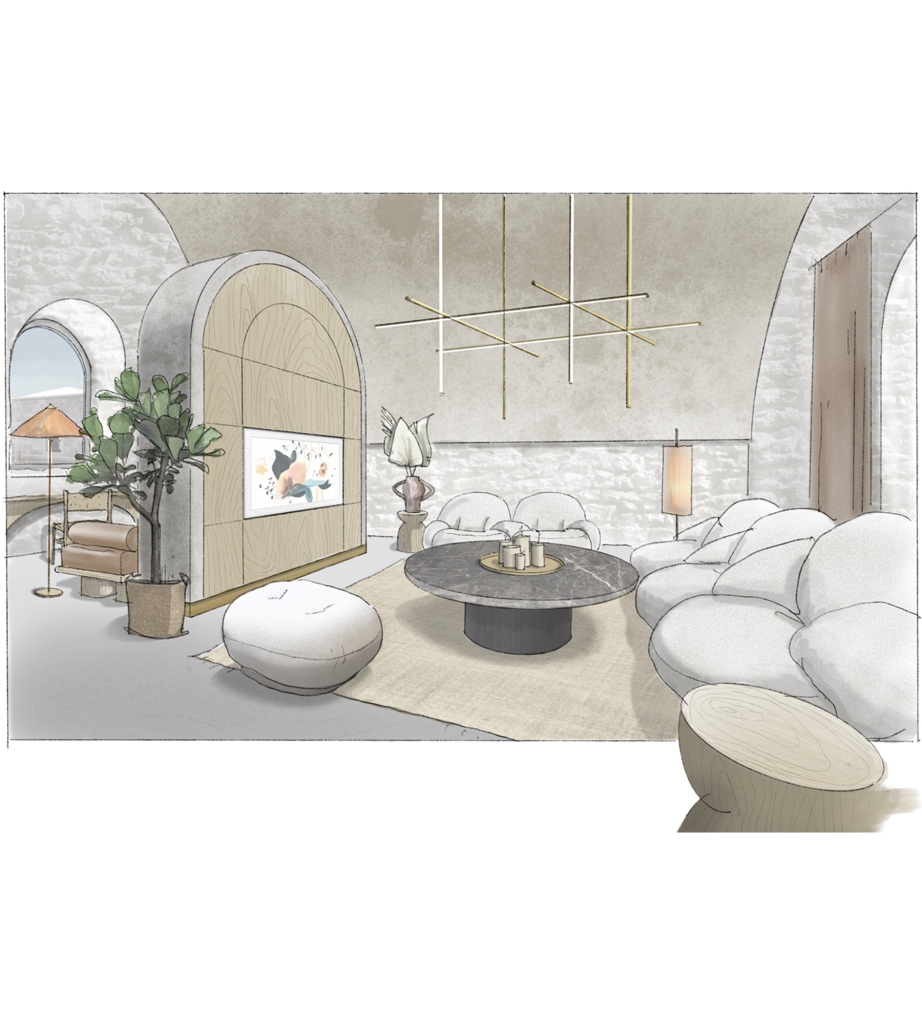 The prevalent motif of the original fort structure is the arch – a symbol of both strength and support but also renewal and openness. In ancient mythology, arches and doorways were seen as thresholds between time and space, and in more modern times as symbols of the expansiveness of the sky. In our desire to create an immersive experience for the guests of Mamula Island, the recurring archways of the fort are recreated throughout the interior spaces. Additionally, the arch motif was the starting point for our custom made geometrical furniture line used throughout the hotel.
On Mamula Island, our holistic approach to the interior design embraces both the natural landscape and the original 19th century fort. It is a place of sustainable luxury, where objects age beautifully as they develop more and more character over time. Harnessing the contemplative atmosphere resonating from the island, our intent was to create a place of wonder! Where each and every guest can take their own journey to discovering what this remarkable place can offer to them.